"Made in Germany" is one of the most highly valued and iconic labels in the world and is generally associated with quality and durability.  In recent surveys, Made in Germany is the most respected brand with the highest reputation of any country making products (Strauss, 2017; Smith, 2019).
Germany leads the EU in automobile production and has been called the world's automotive innovation hub; automobiles account for a comparatively high percentage of the country's value of total exports (Ullrich, 2017; Probst, 2023).  Germany has the strongest economy in the EU, and its southern region with the federal states of Baden-Württemberg and Bavaria has the strongest economy in Germany.  BMW, Mercedes-Benz, Audi, and Porsche, all manufactured in Germany's south, account for 80% of global sales of luxury vehicles.  Germany boasts "modern solutions for sophisticated requirements in supply chain management of automobile manufacturers" (Invest in Bavaria, 2023) and Bavaria alone is home to 180 Tier 1-4 automobile suppliers and 400 automotive organizations.  "The entire value chain is based in this region, including everything from research and development through production to the supply industry" (para. 5).  Stuttgart and Munich, the largest cities in Baden-Württemberg and Bavaria, are both cultural hubs and the economic engines/high-tech centers of Germany.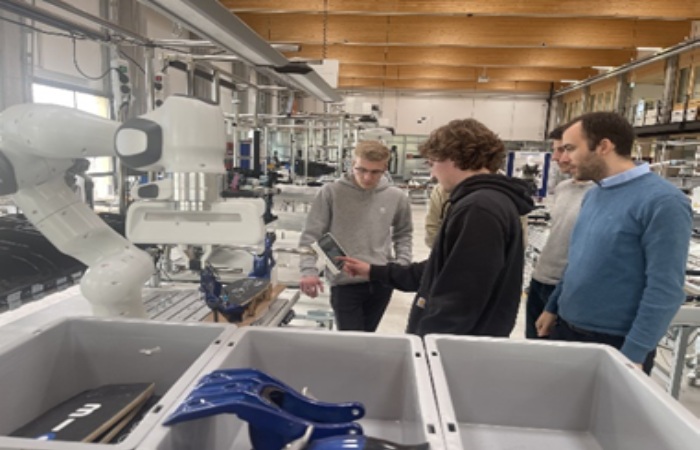 The multinational automobile industry is impacted by Industry 4.0 possibly more than any other industry.  In Germany, Industry 4.0 and smart manufacturing production processes are utilized to create vehicles, constituting aspects of the so-called fourth industrial revolution, which is marked by data-driven technology, digital platforms, and innovations such as cobots, or skilled humans collaborating with robots.
To help American students learn more about Industry 4.0 in an application-based experiential learning environment, a short-term spring break study abroad to the south of Germany was developed.  Barkley and Barkley (2013) stated that cultural encounters are an important ingredient of a short-term study abroad if administered appropriately, and other scholars have pointed out that students can gain true intercultural awareness and insight from a suitably planned short-term trip (Chieffo and Griffiths, 2004; Martinsen, 2011; Vande Berg et al., 2012).  Teichler and Steube (1991) found that the planned logistics of a study abroad trip will make or break students' experiences.
To assist the development of students who are planning future careers in advanced manufacturing, engineering, and industrial technology, this study abroad's theme was Industry 4.0.  Its curriculum was based on related applied learning topics that are inherent to smart manufacturing.  As such, the pre-trip curriculum, learning outcomes (based on the 3XX level of Bloom's taxonomy), experiential learning activities, and assignments were all focused on concepts related to Industry 4.0.  During their time abroad, students engaged in immersive and application-based experiences with German smart manufacturing industrial processes, including multinational automobile factory tours (BMW, Mercedes-Benz, and Porsche) as well as the nearby Reutlingen University Learning Factory.  In this spring break trip, students learned about the most innovative production processes currently happening in the south of Germany.
Not only experiential learning during the trip itself but also pre-trip curriculum and instruction were based on the themes of Industry 4.0 and smart manufacturing.  Topics included:
Operations management fundamentals in a smart manufacturing environment
Artificial intelligence (AI) in modern factories
Industrial engineering technology applications
Industry 4.0 design and applications
Design of hybrid work systems: human-robot-collaboration in manufacturing
Large-scale machine-to-machine communication (M2M)
Sustainability practices in modern factories
Autonomously controlled, changeable intralogistics systems
Additive and subtractive manufacturing technologies
Internet of Things (IOT) and interconnectivity in modern factories
Digitally integrated product and process engineering & manufacturing
Application of 5G technologies in production facilities
Smart machines producing smart products
Innovations in human-robot collaborations
Product engineering, production, and control in smart factories
The following multinational automobile factories, which were toured during the trip, were designed with Industry 4.0 and smart manufacturing processes in mind:
Mercedes-Benz
Factory 56 is a newly designed, state-of-the-art factory on the Mercedes-Benz (MB) campus in Sindelfingen, Germany.  It was built in 2018 with the goal of allowing MB the necessary extra capacity to meet the increased global demand for highly innovative vehicles, with production first rolling off the line in 2020.  It is focused on the manufacture of electric vehicles, self-driving automobiles, and luxury-class cars with combustion engines.  Employees rotate through stations every two hours to prevent burnout and to train for the holistic MB manufacturing process, where they are in constant collaboration with 300 automated transport systems to help facilitate fine craftsmanship and efficiency at their stations.  These assembly areas, or "TecLines", are designed such that employees work on tracks with driverless transportation systems so that no interruptions happen in production. 5G allows workers to see information in real time via their personal digital assistants (PDAs).  AI equips workers with big data and intelligent software with virtual reality technology at their workstations so they can make informed decisions, such as predicting the probability of malfunctions to keep defects from occurring as a new method of predictive maintenance.
Factory 56 was the first 5G indoor mobile network that digitally linked industrial data communication and the vehicle assembly processes in real time, prompting the "development of an own infrastructure (which) brings many advantages and plays an important part in the implementation of smart manufacturing for the future" (Automotive News, 2023, para. 4).Shopping carts supplied through intelligent picking systems provide an efficient supply of parts for workers, even with high levels of variance for custom-made vehicles.  MB designed the Factory 56 assembly facilities and materials-handling technology to be linked to the Internet of Things, propelled by digital tracking in order to detect bottlenecks early in the supply chain (Mercedes-Benz Group, 2023).  MB produced its 22 millionth vehicle in Factory 56 in 2023 (Assembly Mag., 2023).
Student reflections from the Factory 56 tour:
"Through Factory 56, I got a firsthand look at innovations taking place within an automotive factory. Out of everything we saw, the robotic assisted inventory management and the "Internet of Things-powered manufacturing were the most impressive." Jaydon Kauffman, Jaydon Kauffman, Agricultural Economics and Political Science, '26
"Factory 56 used advanced robotics systems for welding, painting, pressing, and assembly, but human workers remain an essential part of the production process, providing the expertise and experience necessary for quality control and process improvement." Stanley Dong, Supply Chain and Operations Management, '26
"The S-class has always been the most luxurious model of Mercedes-Benz, representing what the company can do, and has always been a sign of luxury and great status. The S-class Maybach is a combination of human work and delicacy and the precision and automation of the robot. Factory 56 is entirely based on the work and interactions between humans and robots. There are thousands of different cobots throughout the entire factory to make work easier, safer, and faster for the worker. The most amazing co-bot that I was able to see in the factory is a co-bot that was a big ring that could carry a car's body." Diego Fernandez, Computer Engineering Technology, Minors-Supply Chain Engineering Technology and Computer and Information Technology, '26
"The Mercedes-Benz manufacturing line is highly automated and connected through a network of sensors and software.  This allows for real-time monitoring and adjustment of the manufacturing process and helps them eliminate the error that could occur during the process."  Yuhe Amber Yuan, Mechanical Engineering; Minor- Manufacturing, '23
"The heavy tools, such as the machine pressing the body panels, perfectly pressed each sheet with ease, precision, and consistency, something humans could not do.  When the time came to "marry" the chassis of the car with the engine/transmission, robots were able to assist the human workers in holding the heavy pieces up, and it was humans that aligned the parts together and connected them perfectly." Stanley Dong, Supply Chain and Operations Management, '26_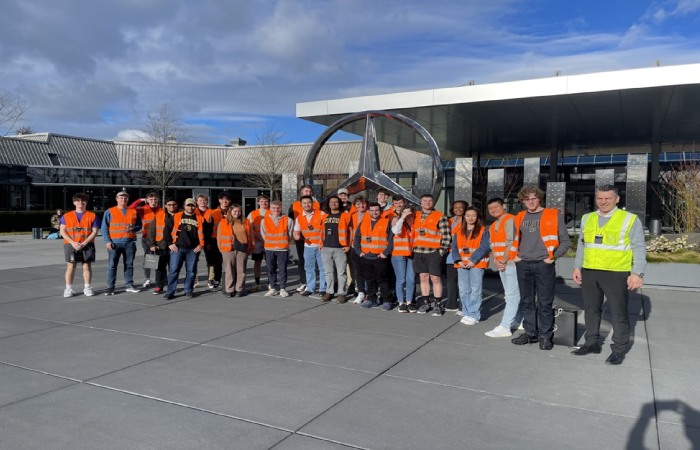 Porsche
At the Porsche factory in Stuttgart, digital screens, not supervisors, let employees know what parts are needed for upcoming vehicles.  As in the MB factory, autonomous carriers/self-guided robots deliver parts, tools, and materials to workstations via tracklines.  Automated robots transport the chassis of the all-electric Taycan production line (whose 100,000th vehicle was built in late 2022), where robots transport components to the areas of the shop floor and employees work on the interiors.  The leather used for the vehicle interiors is scanned for imperfections as it moves through the assembly lines, and cameras use AI to review inventory and parts requirements in real time.
Employees and systems on multiple floors work in data-driven collaboration, where work in process seems to be constantly in transit.  Porsche also uses AI technology to determine the aging behavior of their lithium-ion batteries before the vehicles are put on the market.  Total production in this factory is CO₂-neutral, and the holistic approach to processes involves Porsche's three pillars (smart, lean, and green) associated with their manufacturing process which they label Porsche Production 4.0.
Student reflections from the Porsche tour:
"Robots were transporting parts from one station to another and aiding humans carry large and heavy components (dashboards, seats, and tires/wheels) onto the car, which was then drilled and connected in place by humans." Stanley Dong, Supply Chain and Operations Management, '26
"The robots were clever enough to measure objects and people ahead of them, so that they could stop if a threat was detected.  They could carry things that tremendously exceeded their own weight." Thomas Alani, Mechanical Engineering Technology, '25
"Humans here are not being replaced, and in some cases, cannot be replaced because of the nature of the work, but instead, technology works alongside the humans to increase the capacity of the line.  An example of technology working alongside humans was in the Porsche factory when placing the windshields on the cars." Drew Schoenling, Mechanical Engineering, '25
"For their signature cars the 911, the Taycan, and the 718, the first part of the upholstery process begins with AI." Diego Fernandez, Computer Engineering Technology, Minors-Supply Chain Engineering Technology and Computer and Information Technology, '26
"Machines and operators worked hand-in-hand towards a common goal … Machines were an integral part of the team, as they performed some of the more complicated, precise actions." Adrian Calderon, Industrial Engineering Technology, '25
"The Porsche and Mercedes-Benz factories to be able to produce multiple models and configurations of those models on a single line.  Most notable, MB produced both electric and combustion engine cars on one line." Drew Schoenling, Mechanical Engineering, '25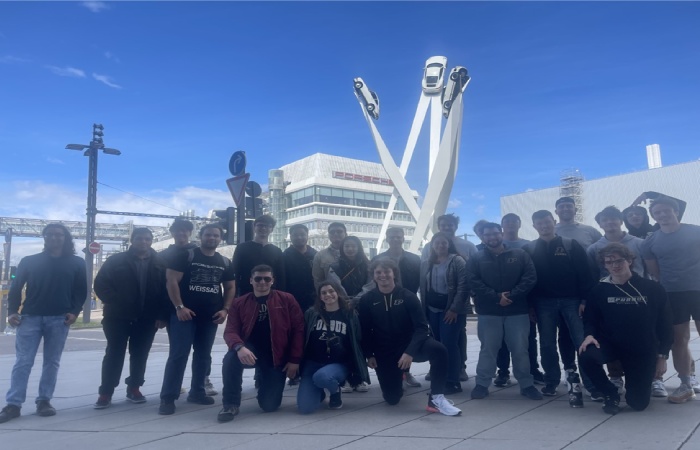 BMW
BMW (Bavarian Motor Works) is a German automaker known for quality vehicles and value-added components.  It was one of the first organizations in the automotive industry to earn the prestigious ISO: 14001 certification (BM W Manufacturing Co., 2018).  The BMW factory in Munich uses digitization in production, referred to at BMW as Industry 4.0.  The system includes smart logistics, additive manufacturing, smart data analytics, and so forth.  Autonomous tugger trains rely on laser signals to enable transportation between the production halls.  Smart logistics systems are interconnected throughout the factory, from the press shop to the body shop, to the paint shop, to the engine shop, where 3D-printing capabilities and innovative data matrix codes are used to trace individual parts for defects.  Smart transport robots (powered by recycled BMW i3 batteries that provide energy for up to eight hours) move components weighing up to 0.5 tons, and wireless transmitters can determine their location so that they can calculate the best route to the end destination (BMW Group, 2023).  The body shop is AI-intensive, integrating smart robots equipped with more than 600 welding tongs.  AI is also being utilized in the paint shop to detect dust particles that are invisible to the human eye and predict the quality of paintwork (Sprovieri, 2021).
Student reflections from the BMW tour:
"We toured BMW Welt as well as their state-of-the art manufacturing facility. Seeing the BMW plant has been my favorite activity thus far as I currently work in automobile manufacturing. It was very interesting to compare the differences of production processes between BMW with their Industry 4.0 techniques and the company I work for in Princeton, IN." Isaac Parman, Muti-Disciplinary Technology, '23
"The BMW tour was a highlight for me; getting the chance to see the company's body manufacturing process from blank sheets of metal to fully-assembled was very stimulating.  It was quite interesting to see the marriage of the body to the guts and their innovative smart manufacturing processes involved." Ben Traylor, Supply Chain & Sales Engineering Technology, '23
"Out of the different types of innovations I figured I would see when touring the BMW factory, robots were one of the items I most looked forward to.  I didn't, however, fathom the magnitude at which these robots would perform in the plant.  Without a doubt, my favorite part of the day was seeing all of the smart robots spring into action and flawlessly perform their tasks.  In particular, it was cool to see the cell where about 14 different robots took off at the exact same time to perform their smart manufacturing functions." Kyle Hagedorn, Multi-Disciplinary Technology, '24
"I wasn't expecting to like the BMW factory because I don't know much about cars but it was so fun to see how the whole smart logistics process works". Lily Renke, Organizational Leadership, '25
"Going to the BMW factory was an amazing experience!  I couldn't stop taking pictures of the cars and motorcycles on display.  Seeing the innovative process in which the cars were made at their smart factory was an experience I will always cherish." Kharl Langan, Aeronautical Technology, '24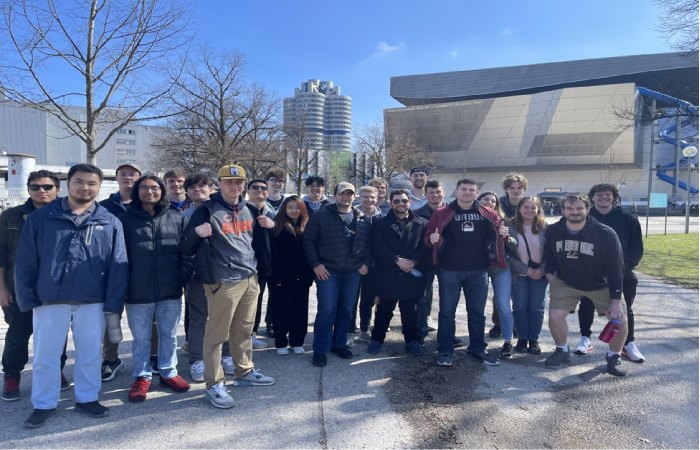 Reutlingen University
Reutlingen University is a higher education institution specializing in applied sciences.  In 2011, the Werk150/ESB Logistics Learning Factory, a research and applied environment where smart production processes operate within an ergonomic workplace, was completed on campus.  Here, the sensors, lasers, smart devices, 3D printers, collaborative robots, and other systems are interconnected and work in unison.  Smart production and logistics systems at the Learning Factory at Reutlingen are part of new innovative methods associated with Industry 4.0.  This learning factory is designed to work on research and development projects in close cooperation with industry, other colleges and universities. Due to the large number of student projects, research and teaching are closely interlinked.  Students are trained to become future experts in the field of innovative technologies and approaches. In addition, current issues of applied research are dealt with here and new methods, tools and future technologies as well as control methods for adaptable work and logistics systems are developed and tested. The results of applied research are continuously incorporated into teaching.
Reutlingen University faculty and graduate students provided workshops for the Purdue students and instruction on the most innovative trends in smart manufacturing, both in the classroom, where they attended a lecture by Dr. Daniel Palm and his team about the multinational automobile industry and innovations impacting it, and in a lab setting.  Students were introduced to the latest technologies and trends impacting production processes and applied them in the Learning Factory lab exercises the following day. The labs included three comprehensive stations for 1) Artificial Intelligence, 2) Blockchain, and 3) Cobots are human/robot collaborations that are not designed to work autonomously, but instead with a human.  In the cobot lab, students worked alongside two different types of robots (one whose motions students programmed by hand and the other whose motions students programmed by code).  During this lab, students worked with smart robotic arms containing sensors that reacted to human contact.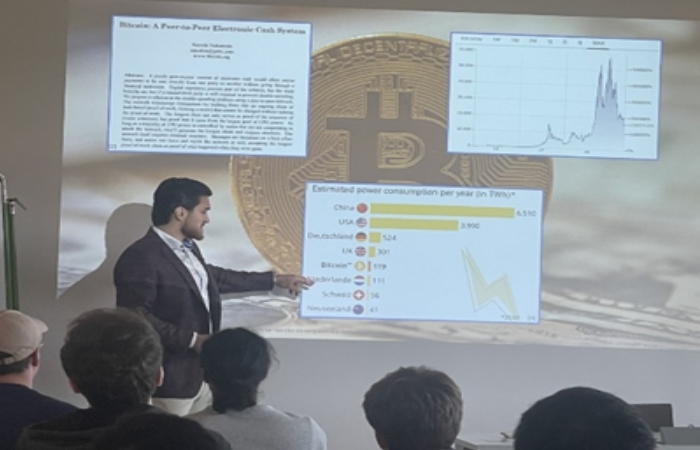 Student reflections from the Reutlingen University Learning Factory:
"It was very obvious they cared a lot about what they taught which made it that much easier to learn and enjoy.  I would argue that they were the most eye-opening lectures I have ever participated in." Nathan Moyer, Mechanical Engineering Technology, '26
"This blockchain could easily keep track of products coming into/out of a factory and where those products are being moved within the factory as well.  By creating this blockchain-powered inventory management system, a company will benefit from a secure, simplistic, and unbreakable way to observe how their inventory moves within the organization." Jaydon Kauffman, Agricultural Economics and Political Science, '26
"This is something that interested a lot of people because we typically understand or know the financial aspect of the blockchain through Bitcoin, but never really understood it enough to understand how it works and how it can be implemented in different ways with supply chain technologies." Carter Smith, Pharmaceutical Sciences, '24
"The AI lab sought to teach students how nearest neighbor recognition works from images, where the system tries to identify what is pictured based on being 'trained' from seeing other manually labeled images.  We took pictures of scooter parts that were assembled in Werk150 and gave them to the computer to sort accurately.  This was an eye-opening introduction to AI".  Robert Russo, Mechanical Engineering Technology, '23
"Cobots were filled with sensors and scanners in areas where humans couldn't access. If these motion or feel sensors are triggered, the cobot locks into safe mode, and it stops the work it is doing to protect the human." Diego Fernandez, Computer Engineering Technology, Minors-Supply Chain Engineering Technology and Computer and Information Technology, '26
"There is a big misconception of the AI world that the professors at the Reutlingen University made us aware of. People seem to think that AI is extremely dangerous because it develops a mind of its own and might replace workers. This may be true for very specific technologies, but for most innovations, AI does not work like that. AI uses information to become more accurate, not to make moral decisions that humans would do." Diego Fernandez, Computer Engineering Technology, Minors-Supply Chain Engineering Technology and Computer and Information Technology, '26
"Conducting research on how to utilize this AI to automatically order parts in bins that are low in stock.  This is very high-level technology that utilizes artificial intelligence to streamline the supply chain process." Drew Schoenling, Mechanical Engineering, '25
"At the Learning Factory, their discoveries and testing with AI allows students to realize how technology is evolving quickly … One interesting aspect includes using AI to investigate the contents of a box of nails, which allows an individual to see the contents of the box and visualize the product by using technology." Anna Roetker, Supply Chain Information & Analytics, '24
"We also learned about AI and different ways that you can use it.  My favorite part was working with robots, which helped us work together and use our critical thinking skills.  We were tasked with moving one part and putting it in a box and would take turns coding the device and testing it to see the result.  I have worked with coding before, which made it a lot easier for me to code the robots, but I've never used it in person.  It was very cool to implement what I knew about coding into an in-person system." Emily Laux, Supply Chain and Sales Engineering Technology, '23
"After the AI learns from this training what to look for, it will be able to detect parts with near certainty. The more you provide the AI, the more accurate it will be. This process can be used to detect parts in a supply chain." David Brown, Computer and Information Technology, '23
"In our study at Reutlingen University, we learned the artificial intelligence system by using the example of machine learning of the rock, paper scissors game. To train the AI to recognize the rock, paper, and scissors gestures, we used the camera to capture images of people making the gestures. The images will be labeled with the corresponding gestures and then be used to train the AI to recognize the gestures when people make them in front of the camera." Yuhe Amber Yuan, Mechanical Engineering; Minor- Manufacturing, '23
Experiential learning was the core of this trip, with the ultimate goal of learning about applications that make Made in Germany as strong as ever in a modern, smart manufacturing, Industry 4.0 environment.  Key takeaways, as intended from the creation of the learning outcomes are reflected in the following student quotes:
"From the data and information provided on Porsche, Mercedes-Benz, and AI technology, integrating the innovations of the German Industry 4.0 will allow the new potential facility to excel, the incorporation of these systems will look different for each company …  Not only does this boost profit, but makes for a better work environment and lifestyle that helps employees enjoy their career with improved and advanced innovation." Anna Roetker, Supply Chain Information & Analytics, '24
"During a trip to Germany our group was able to get a first-hand experience of the different cultural aspects of the Germans compared to us Americans, but also were able to see into the epicenter of innovation in manufacturing through visiting world-renowned automobile manufacturing." Carter Smith, Pharmaceutical Sciences, '24
"The most prominent example of universal adaptation between each manufacturer…was the implementation of hundreds of programmed robots used for all aspects of the manufacturing process."  Drew Watts, Mechanical Engineering Technology, '25
"Industry 4.0 is about creating smart factories that implement digital technologies into production lines to assist humans and increase the variety of products that can be produced on a single line … Digital technologies are changing the way we live our lives, they are becoming more dependent and integrated with these technologies. This integration of technology continues into factories and production lines and is especially prevalent in German Industry 4.0.  German Industry 4.0 has produced innovative and cutting-edge technology that has drastically improved manufacturing processes." Drew Schoenling, Mechanical Engineering, '25
"I can say with confidence that Germany is leading the 4.0 Industry and that they are always working on cutting-edge new technologies to improve supply chains and manufacturing processes every day.  Having access to the technology that Germany is creating before other American competitors would give this company a massive leap against its competitors, especially when it comes to implement new technologies into the manufacturing process to make everything faster, with higher quality, and more cost effective." Diego Fernandez, Computer Engineering Technology, Minors-Supply Chain Engineering Technology and Computer and Information Technology, '26
"It was clear that the Germans care about the quality of their work, and they want their workers to be the best they can be." Robert Russo, Mechanical Engineering Technology, '23
"German Industry 4.0 is a leading example of how digital technologies can be applied to improve the efficiency and productivity of the manufacturing system." Yuhe Amber Yuan, Mechanical Engineering; Minor- Manufacturing, '23
"The processes and data about the vehicles used market data analysis to find good fits for their cars in countries around the world. Operations managers collect data from sales in the past to predict trends in the future (such as EVs in the coming years) to determine which technologies and body styles are worth investing in to turn a larger profit.  Professor Palm taught us about the different markets of cars, and how most of the auto markets in Asia and Europe follow a customizable method when buying a car as opposed to the American counterpart where the consumer purchases cars available on the lot." Stanley Dong, Supply Chain and Operations Management, '26
"The United States lacks competencies in manufacturing compared to some other countries.  Germany, on the other hand, known for being the birthplace of various German luxury car brands and world-wide manufacturers such as Bosch, has developed a competent and mature manufactory industry while constantly improving." Yihao Andy Pan, Sales and Selling Management, '23
"Companies have created a balance between human and machine workers, to constantly improve upon a system's efficiency and cost … The removal of confusion and the requiring of an extensive knowledge of part locations is removed by the inclusion of "cobots" machines designed to do commanded simple tasks repeatedly." Drew Watts, Mechanical Engineering Technology, '25
"As we move further into the future, we will continue to see greater integration of digital technologies, automation, and data-driven processes in manufacturing, and the collaboration between humans and robots as well as the importance of strong operations management fundamentals through data collection will remain key aspects of this transformation." Stanley Dong, Supply Chain and Operations Management, '26
"Industry 4.0 gave machines life and gave humans more time to think about things that matter more. By taking advantage of Industry 4.0, the world can definitely become a better place." Zicong Nathan Wang, Mechanical Engineering, '23
Assembly Magazine.  (2023).  Mercedes-Benz Factory Marks ICE and EV Milestones.  Retrieved from: https://www.assemblymag.com/articles/97652-mercedes-benz-factory-marks-ice-and-ev-milestones.
Automotive News.  (2023).  Retrieved from: https://iot-automotive.news/mercedes-factory-56/.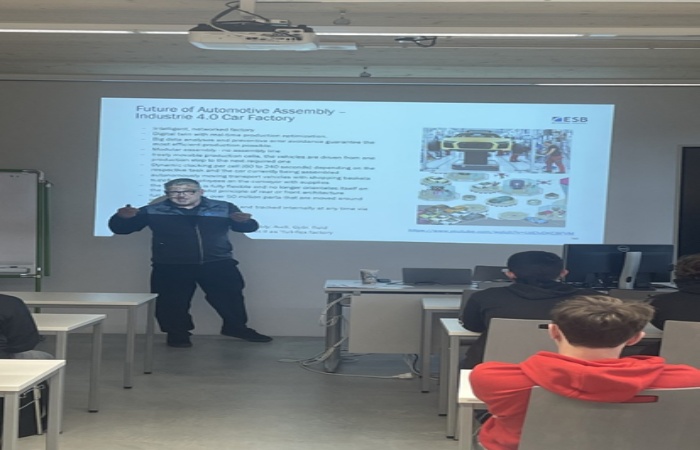 Barkley, A., & Barkley, M.  (2013, September).  Long Term Knowledge from Short Term Study Abroad in Brazil and South Africa: Facilitating effective international experiences.  NACTA Journal, 57(3a), p. 146-152.
BMW Group.  (2023).  Retrieved from: https://www.bmwgroup.com/en/innovation/company/industry-4-0.html.
Chieffo, L., & Griffiths, L.  (2004, Fall).  Large-scale Assessment of Student Attitudes After a Short-term Study Abroad Program.  Frontiers Journal: The interdisciplinary journal of Study Abroad, 10, p. 165-177.
Invest in Bavaria.  (2023).  Retrieved from: https://www.invest-in-bavaria.com/en/.
Martinsen, R.  (2011, March).  Predicting Changes in Cultural Sensitivity among Students of Spanish during Short-term Study Abroad.  Hispania, 94(1), p. 121-141.
Mercedes-Benz Group.  (2023).  Mercedes-Benz cars increase flexibility and efficiency in operations.  Retrieved from: https://group.mercedes-benz.com/innovation/production/factory-56.html.
Probst, J.  (2023, April).  The Decline of Car Manufacturing is Hurting the German Economy.  Retrieved from: https://recruitonomics.com/the-decline-of-car-manufacturing-is-hurting-the-german-economy/.
Smith, M.  (2019, July).  "Made in Germany" is the Best Thing You Can See Stamped on Your Product.  Yougov.co.uk.  Retrieved from: https://yougov.co.uk/topics/international/articles-reports/2019/07/02/made-germany-best-thing-you-can-see-stamped-your-p.
Sprovieri, J.  (2021).  Assembly Magazine.  Retrieved from: https://www.assemblymag.com/articles/96568-industry-40-and-the-automotive-industry.
Straus, K.  (2017, March).  Made in Where? The countries with the best reputations for producing quality.  Forbes.  Retrieved from: https://www.forbes.com/sites/karstenstrauss/2017/03/27/made-in-where-the-countries-with-the-best-reputation-for-producing-quality/?sh=253bf2304b3d.
Teichler, U., & Steube, W.  (1991, April).  The Logics of Study Abroad Programs and Their Impacts.  Higher Education and the Flow of Foreign Students, 21(3), p. 325-349.
Ullrich, K.  (2017, October).  German Exports are Dominated by Automobiles.  KFW Research Economics in Brief.  Retrieved from: https://www.kfw.de/PDF/DownloadCenter/Konzernthemen/Research/PDF-Dokumente-Volkswirtschaft-Kompakt/One-Pager-2017-EN/VK-No.-149-October-2017-foreign-trade.pdf.
Vande Berg, M., Paige, R., & Hemming, K.  (2012).  Student Learning Abroad: What our students Are learning, what they're not, and what we can do about it.  Sterling, VA: Stylus Publishing, LLC.
Written by:
James J. Tanoos, PhD
Clinical Assoc. Prof., SoET dept.
Purdue Polytechnic Institute